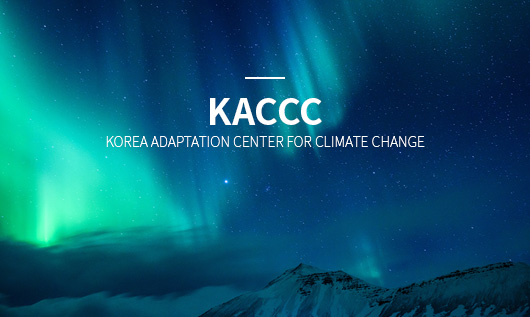 Korea Adaptation Center for Climate Change(KACCC)

was established in July 2009 when the center was consigned to the Korea Environment Institute (KEI) by the Ministry of Environment (ministry-in-charge of climate change adaption).

KACCC has made numerous outstanding achievements, by carrying out strategic research related to climate change adaption and assisting in implementing plans for climate change adaption in the national and local level.

KACCC also seeks to raise awareness of climate change adaption among the general public - including marginalized and vulnerable groups.

One of the core strategy is to mainstreaming climate change adaptation by motivating public participation and establishing international collaborations.

Overall, KACCC aims to enhance the climate resilience the whole social sector across the country and develop science based adaption strategies.
KEY ROLES & ACTIVITIES
---
SUPPORT MAJOR ADAPTATION GROUPS
SUPPORT DECISION - MAKING
COOPERATION PUBLIC AWARENESS
NETWORKING EXPERTISE - INTERNATIONAL COOPERATION
---
PROVIDES
• An annual international climate changed adaptation symposium and other international event that involve many national and international partners

• An adaptation capacity building program for developing countries, working with various international partners

• Consulting services on the development and implementation of adaptation plans and policies

• Technical support and relevant tools for adaptation